Perona Farms Andover NJ Wedding Photographer
We love taking environmental portraits. This photo of Caitlin was taken right before her first look with Dave.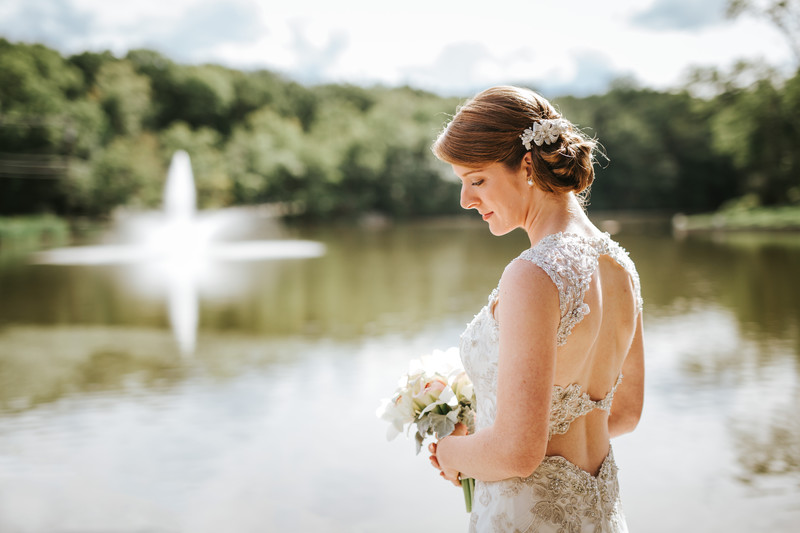 Elegant Bridal Portraits in Andover, NJ
We managed to get this elegant bridal portrait of Caitlin, before she started walking toward Dave for their first look. Sometimes wedding photography, at least for photographers who lean heavily toward photojournalism, is an art of getting lucky! In this case, we didn't really plan for this particular photo, and yet it turned out to be one of the most elegant and natural bridal portraits from that day. We have a natural tendency of incorporating the surrounding, to get a sense of the atmosphere even when we're taking close-up portraits. Hence we tend to gravitate toward wider focal lengths. This particular one, for example, was taken with the 50 mmm, that allowed us to incorporate the beautiful Lake and part of the sky in the background.
This photo was taken with the Sigma 50 mm Art lens, which is certainly becoming one of the most favorite tools for Nuva. Sigma is definitely producing some gems with their hardline, and the 50 mm has a certain magic sector about it. Close-up bridal portraits and tight environmental photos come out extremely beautiful and sharp with the 50mm Art.
Location: 350 Andover Sparta Rd, Andover, NJ 07821.