Hudson Valley Wedding Photographer
Vanessa and Avi's Jewish wedding in the Hudson Valley was an absolutely beautiful affair to photograph. This couple is beautiful inside out, and remain as one of our most favorite couples that we have ever worked with. The wedding took place in Bedford Hills at Vanessa's dad's private estate, a beautiful lush green property in Hudson Valley.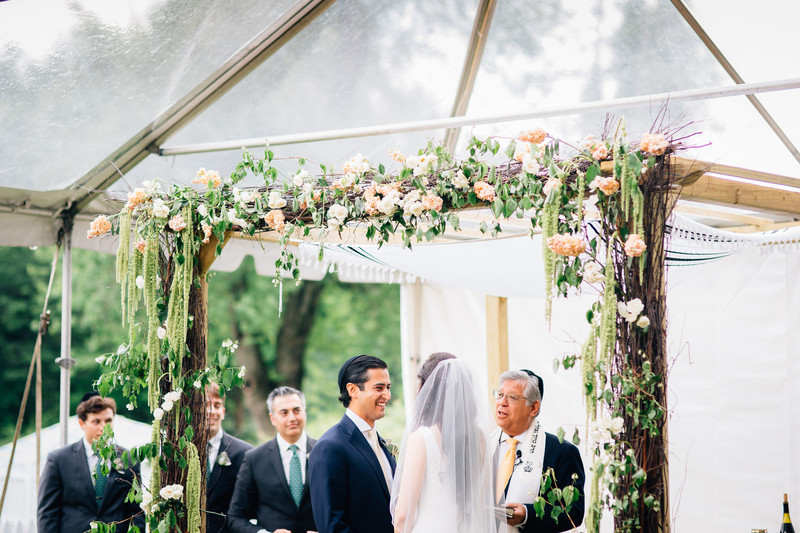 Candid Moments During Wedding Ceremony
As photojournalists, we are always keen to document natural moments. Wedding ceremonies can often be the jackpot where ethereal and timeless candid moments unfold. In this photograph, the rabbi mentioned a joke about staying together, and that produced a smile on Avi's face as he looked on with love and affection toward the Vanessa. The light, the composition and the overall a airy atmosphere within the transparent tent all came together in the making of this beautiful image. Most importantly though, it's the beautiful moment, the smile, the look on Abi's face along with the surrounding background that makes it one of my favorite images from the wedding ceremony. One of the "tricks" we follow, being a team of two photographers in almost every wedding we cover, we position ourselves in order to take photographs of the same moment from different angles, creating different perspectives. It's quite remarkable how slight changes of the angle, perspective and lens can capture the same slice of moment with completely different look and feel. Nuva was standing in the center of the isle taking the symmetric shots, while I positioned myself to capture the emotion on Avi's face.
Location: Hudson Valley, New York.