Crest Hollow Country Club Wedding
Lily and Daniel have been an absolute blast to work with. Their wedding at the Crest Hollow Country Club was certainly one of the most fun, energetic and dynamic weddings we covered last year. This is a photo of Lily and her bridesmaids taken from right outside the bridal suite. The sun-kissed trees in the background provided an ideal settings for a lovely backlit portrait.
It takes a bit of practice and skill to come up with natural looking portraits during a "formal" portrait session. The key is to be able to expect natural expressions before they actually happen. That, almost inevitably, means being ready to snap the right expressions which often tends to be right after the "planned pic". In this instance, Lily and the girls had just taken a regular portrait, looking at the camera. As soon as they thought I was done taking the photo, they started looking at each other and started smiling, at which point I knew I had my shot!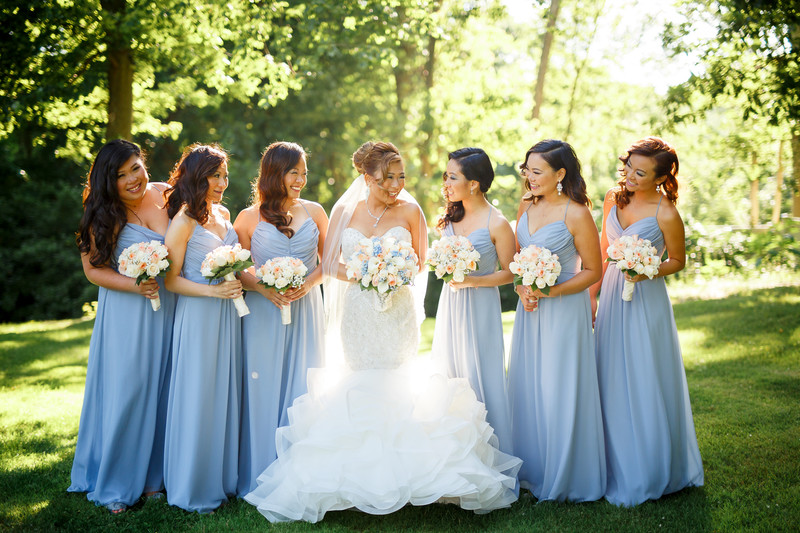 Making Diffused Natural Lighting
One of the challenges in this portrait session was the fact that we were shooting pretty much at midday when the sun was directly overhead. Shooting under those circumstances in open space would almost certainly produce unflattering results, due to harsh shadows cast by the overhead sun. However, we managed to find a corner in the property with plenty of trees.The sun was streaking through creating a light and airy feel. So we placed the bridal party there to take some lovely backlit portraits.
Location: 8325 Jericho Turnpike, Woodbury, NY 11797.